On March 23, N-SIDE was officially awarded the B Corp Certification! We are now one of the 3275 B Corporations worldwide Using Business as a Force for Good™.
What is a B Corp™?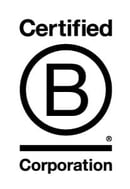 B Lab™, the nonprofit behind B Corp Certifications defines B Corporations™ as follows:
Certified B Corporations are businesses that meet the highest standards of verified social and environmental performance, public transparency, and legal accountability to balance profit and purpose. B Corps are accelerating a global culture shift to redefine success in business and build a more inclusive and sustainable economy.
Why get certified?
For 20 years, we have been working on fulfilling our mission statement :
Every day, we help companies across the world to optimize the use of their resources. On the pharmaceutical side, we help our customers reduce their waste in the clinical trials process. On the energy side, we support them to reach an efficient energy transition to ensure sustainable, reliable energy markets and grids while optimizing the social welfare.
Being certified is a commitment toward all our stakeholders demonstrating that we are also taking measures on our own workplace to become more socially and environmentally responsible. It gives us a framework to implement concrete actions to balance profit and purpose.
B Impact Assessment
To get the B Corp Certification, we had to undergo a long and rigorous assessment process regarding our social and environmental performance. We also had to meet legal requirements and integrate our stakeholder consideration into our governance structure.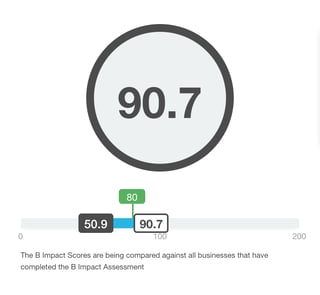 The B Impact Assessment process measured our performance in five categories: governance, workers, customers, community, and the environment. B Corporations must achieve a minimum verified score of 80 and after a third-party verification, make their results transparent and available on bcorporation.net.
We are proud to have obtained a B Impact Score of 90.7, with top scores in the Workers and Environment categories.
LEARN MORE ABOUT OUR B IMPACT SCORE
Our actions
Here's a non-exhaustive list of our actions and accomplishments, that allowed us to meet high standards in terms of social performance :
Our financials results are verified annually by an independent source through an audit, made public and communicated transparently to our employees
100 % of our employees are paid more than the living wage (as opposed to the minimum wage)
Some of our employees have been granted shares in the company
All employees are provided with fringe benefits (health insurance, retirement plan, company car, etc.)
We encourage our employees to participate in wellness activities and workshops (permaculture, cooking classes, yoga, slow cosmetics, etc.) through a local cooperative, Incredible Oasis
We have been certified Great Place to Work for the second consecutive time, showing the satisfaction of the employees
More than 30 % of our managers are women
We regularly donate to a few small charities (Shoe-box campaign, l'Escalpade, Carolina for Kibera, etc.)
We organize blood donations several times a year
We increase the number of volunteering hours of our employees. In June and December for example, we organized the N-SIDE Care Week and the N-SIDE Care Month. In both cases, our employees took part in a range of activities while having strong social and environmental impact
etc.
On an environmental level, we've been working with CO2logic, an environmental consulting company, to raise our employees' awareness on our carbon footprint and to calculate, reduce and compensate our local and global climate impact. The green initiatives below helped us to obtain the CO2-Neutral Certification: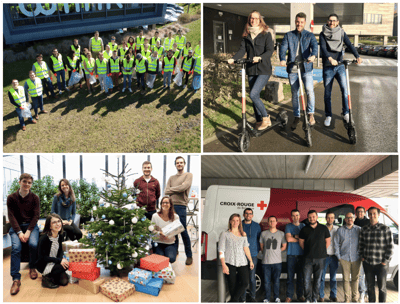 Our B Corp goals for the future
Being certified B Corp is not a one-off achievement. We are committed to continuous improvement in the long-run as we will undergo reassessment and verification every 3 years to maintain certification. In addition to maintaining our current standards, we set goals for improvements and made new engagements such as:
Implementing a clear environmental policy regarding our supplier selection
Implementing a clear policy to encourage local purchasing
Finding greener sources of energy for our building
etc.
This new certification, along with the Great Place to Work and Co2-Neutral certifications, demonstrates once more N-SIDE isn't just a company looking for profit only, but an organization taking all its stakeholders into consideration to have a more positive social impact and dedicated to contribute to a more sustainable world.